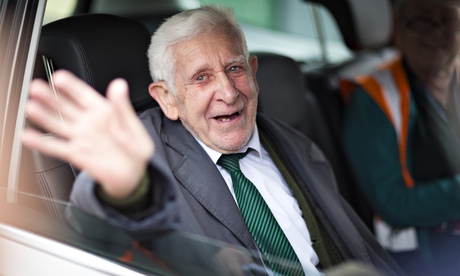 Former naval officer Bernard Jordan returns safely to his nursing home after sneaking out to catch a ferry to Normandy
It was the story that knocked the speeches of world leaders and royalty off the front pages this weekend: the second world war veteran who refused to miss the D-Day commemorations and staged a "great escape" from his care home to join his compatriots on the beaches of Normandy.
On Saturday, Bernard Jordan returned, not to the telling-off he feared, but to a hero's welcome and a cup of tea at The Pines nursing home in Hove, East Sussex, after his jaunt across the Channel, which led to a police search for him. "I had a good time, every minute of it. I'm pleased I did it. I'd do it again tomorrow," he said as he disembarked from an overnight ferry at Portsmouth.