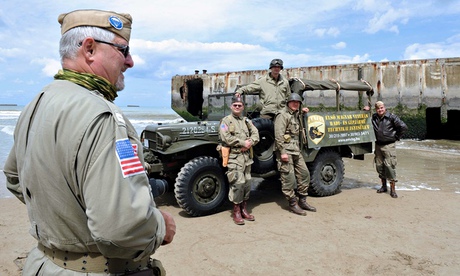 Second world war veterans are joined by serving military personnel and schoolchildren to mark Allied operation that helped win the war but at a terrible cost
They stood to attention as straight as their creaking backs would allow and saluted briskly as a lone bugler high up on the old Pegasus Bridge played the Last Post. A minute's silence followed; the men bowed their heads, dabbed their eyes and remembered the fallen.
Some made one last heroic effort to rise from their wheelchairs, others leaned on sticks or the arms of relatives and friends. Medals glinted in the morning sunshine; rows and rows of them, pinned to still-proud chests.