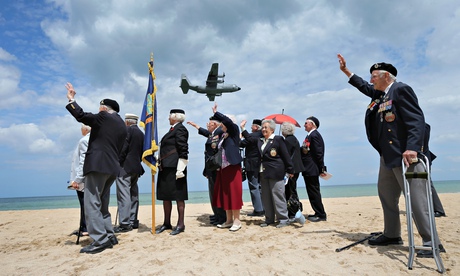 'I was the only one standing. They hit the landing craft straight away. How they missed me, I don't know'
Along Normandy's coastline, simple services were held throughout Thursday. Bugler strains of The Last Post drifted over Sword Beach, the eastern most of the five landing sites, as rheumy-eyed veterans stared out at the sun-kissed expanse of golden sand.
How different it was now to then. "It was so smokey, there was so much noise, the noise was really quite terrific," remembered Ron Rogers, 96, then a captain with "the Suffolks". "The Germans were shelling, we had a rocket ship to our right. There were houses on fire in front," he said, surveying the calm sea from his wheelchair as a child piled a toy tractor with sand just yards away from him.