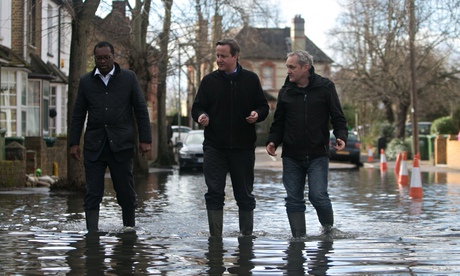 Prime minister warns that worst is far from over and pledges to step up military role in rescue effort
David Cameron served notice that the floods may worsen over the coming days as he underlined the gravity of the crisis by announcing that he is to cancel his first visit to the Middle East as prime minister next week.
In his first press conference in the UK since the summer, the prime minister announced that he was stepping up the role of the military in helping with the rescue effort.
By the end of Tuesday, 1,600 service men and women – with thousands more on call – will have been deployed around the country under the command of Major General Patrick Saunders.
In the "most serious developing situation" in the Thames valley, the military have built a 60 metre wall at Datchet. A 100-strong company of the 1st Battalion the Royal Regiment of Fusiliers has been deployed in Wraysbury.
The prime minister, who feared that the government was failing to handle the crisis amid apparent bickering by ministers, moved to impose his authority by saying that he would lead the national response as he said that 65m cubic metres of water has flooded onto the Somerset Levels.
Speaking from Downing Street, Cameron sought to move on to a new footing by saying that money would be no object as he lavished praise on the staff of the much criticised environment agency.
But he said that the worst is far from over and that there are still sixteen severe flood warnings – indicating a danger to life – and 133 flood warnings, meaning that more floods are expected, and a further 225 flood alerts.
The prime minister said: "Things may well get worse before they get better … My message to the country today is this: money is no object in this relief effort. Whatever money is needed for it will be spent. We will take whatever steps are necessary."
Cameron then outlined his plans for the coming days and weeks. He said: "I will continue to lead the national response by chairing meetings with the government's emergency committee, Cobra. I am cancelling my visit to the Middle East next week. I am sending my apologies to Prime Minster Netanyahu and President Abbas. But nothing is more important than dealing with these floods."
He announced that a new cabinet committee to oversee the recovery, which he will chair on Thursday, will focus on speeding up the work of insurance companies so people can make their claims quickly. As he spoke, officials met the Association of British Insurers in Downing Street.
Cameron said that nobody should resign – which could be seen as offering some support to Lord Smith of Finsbury, the Labour chair of the Environment Agency who has been criticised by Eric Pickles. He praised the "brilliant" work of the agency's staff although he declined to offer personal support for Smith.
Cameron also rebuked Pickles, the communities secretary who was placed in charge of the government's response, by saying that …read more